Zwei!!
Overview
A 2d action RPG by Falcom, released in 2005. Featuring a loveable cast of characters, and the sister/brother (but not in the direct blood relation way, as Pokkle would say) team of Pokkle and Pipiro.
Set in the world of Granvallen, on the island of Arges, in the little village called Puck, our two young adventurers set out to save the village's idols, uncovering a plot that threatens to restart the Great Sorcery War that occured 500 years ago.
Screenshots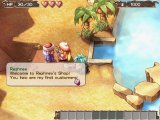 Download (Alpha)
Removed due to upcoming English Release.
Known Bugs
Occassionally the opening cutscene will have graphical glitching.
For debugging purposes, all monster and character information is unlocked from the start. Beware spoilers!
That said, books are still a bit glitchy in general.
Some text bubbles are glitchy.
Occasional untranslated strings crop up here and there.
Project credits to
Jessica Bird -Translator, 'zzblue' -Programmer, JoseJL -Programmer, 'Unorigino' -Editor, jdkluv -Artwork